Now I'm selling dope and I know why
Launch your project knowing that you have made the best choices. Let yourself be helped by an exceptional team and overcome the obstacles of the web.
UX Design + Brand Identity
User experience is detail, brand is strength
We make the right choices to empower your brand and communicate the right values to the audience it is dedicated to. We take care of every detail of the strategy, from the definition of the brand to the launch, paying the utmost attention to the user experience which must be unique and simple. We design connections between the virtual world and the real world, involving your users to the maximum and monitoring all the metrics useful for making you grow.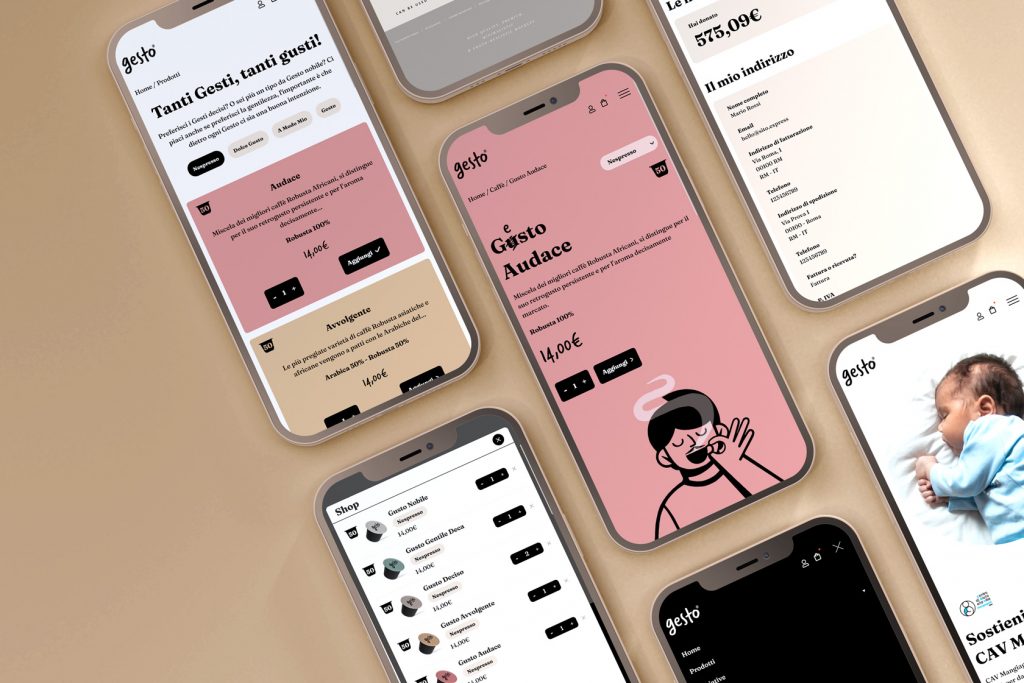 Gesto is the first socially responsible coffee. It takes the simple gesture of drinking a coffee to something that can actually make a difference, donating part of its revenue to its no-profit partners. In this way any coffee you drink, it'll be for a good cause. To make Gesto's dreams come true, we went for … Read more
We create customized ecommerce sites with unique features generated from a well-defined strategy
We create ecommerce sites able to achieve the goals of acquiring contacts and converting users also through targeted web marketing campaigns. Our knowledge of the sector allows us to create ecommerce sites as strategic tools where detail and user experience make the difference, opening your company to new sales channels in an increasingly digitized market.
Realizziamo siti web performanti, curati in ogni dettaglio
Un buon sito web è necessario per rendere una comunicazione credibile, competitiva ed efficace agli occhi del tuo pubblico. Nei molti anni di esperienza ci siamo occupati di creare piattaforme, testate giornalistiche da milioni di visite, web app e siti web aziendali, realizzando sempre prodotti di successo. Tutti i siti web realizzati con il nostro accompagnamento si sono trasformati in strumenti di business fondamentali per farsi conoscere, crescere e raggiungere nuovi mercati.
WordPress Plugins & Themes
We create custom themes and plugins for WordPress and WooCommerce
We implement new features in an smart, reusable and reconfigurable way according to needs, applying agile methods and dividing the development of the project into short iterations, so as to reduce time to market and test our products as soon as possible. All this translates into a virtuous cycle of continuous improvement, therefore in greater efficiency of business processes which allows for better results in the short, medium and long term.
We'll guide you in developing your idea step by step.